Pickle Factory Movie?
Talks have begun about a possible full length movie, a big change from the short skits we've become used to. Details are still sketchy about the plot. The script is written by the one and only Ange!

Stay tuned for more details!


Save Me, Jebus!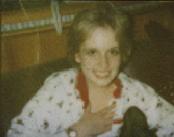 Kara has begun rehersals for Godspell! We wish her the best of luck. Stay tuned for pics from the show. Go for it, Kara!


Mari Goes Online!

Marianne is creating her own website to share her passion for writing with the world. We'll keep you posted on her progress.